J U D Y   L O G A N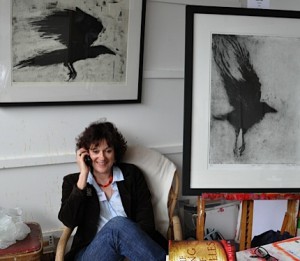 I'm a painter and printmaker currently working in Cambridge. I respond visually to the unexpected, crazy and constantly surprising encounters in my daily life. These are at once personal and universal, incorporating topics that effect us all e.g. love, death, joy, jealousy, loss, nostalgia etc. Things that spark something in my imagination go straight into the sketchbook to be worked on back in my studio.
Working with my imagination, sparks of interest and sketchbooks I begin to move towards combining them into something visual. The emerging image will suggest how best to portray itself.  This can range from a sombre painterly way that I might reinterpret a Classical sculpture through to stark black and white images best achieved through the printmaking processes. I especially find printmaking the perfect medium when expressing the infinite emotions depicted in my raven and crow etchings.
I exhibit regularly in group and solo shows throughout the UK and my work is regularly selected for competitions. Occasionally I undertake commissions some of which have appeared on CDs and poetry books and have been interviewed live on a BBC national art show and interviewed for local TV. My prints and paintings have been shown throughout the UK including: The Royal Academy of Arts, Royal West Academy, A&D Gallery, The Fry Art Gallery, Baron Art Gallery, Oriel CRIC Gallery and New Brewery Arts. I've a first-class English degree from King's and a Masters from Cambridge School of Arts in fine-art printmaking.