J U D Y   L O G A N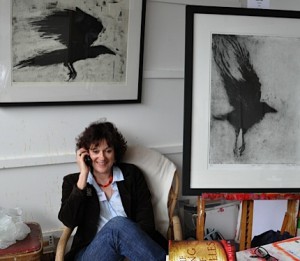 Following a successful solo show in London, Judy gave up her job-of-a-lifetime at the Royal Academy of Arts to focus solely on her painting and printmaking.
Judy's bold, spiritual paintings and prints reflect her experience of the world. She explores her intuitions through images that are sometimes colourful, contemporary and figurative, sometimes via the dark antics of crows and ravens. Like a two-headed golden sovereign her work has an instant attraction then gives way to deeper more hidden meanings…. …meanings, she feels, that subtly engage us all.
Judy's etchings and paintings have been shown at many galleries throughout the UK including: The Royal Academy of Arts, Royal West Academy, A&D Gallery, The Fry Art Gallery, Baron Art Gallery, Oriel CRIC Gallery and New Brewery Arts. Her work has been featured on Steve Logan's CD covers and she has been interviewed on a BBC1 Art Show.
She has a first-class English degree from King's and a Masters from Cambridge School of Arts in fine-art printmaking. Judy spends her time working between Cambridge, Wales and Brighton.